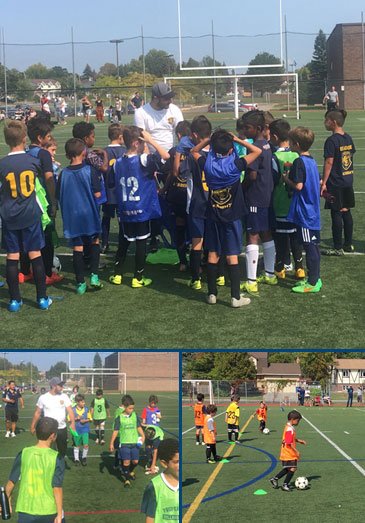 Adopting a European philosophy, SC Azzurri (the blues) will resemble a Scuola Calcio (soccer school) in the traditional sense. Our soccer school will be in service for most of the year as we follow the typical academic school year/calendar. We are focusing on developing motor skills, and base technique with a curriculum that is broken down per age group and per month as it is part of a yearly curriculum. Certain Soccer Schools in Europe have age groups from 4-18 years of age. While SC Azzurri is exploring the possibility to eventually expand, it has decided to start with the age categories considered to be the most important in a soccer player's development cycle; from 8-12 years of age.
The young athlete will benefit from extra training that is different than what he receives with his/her team. The training will focus on basic technical skill development, as well as physical development. More emphasis is put on the individual and not on a team training philosophy. Our goal is to develop players to have a strong base technique and to be smart players. Certain age groups are merged allowing qualified technical staff to oversee a wider variety of players. Due to the restricted number of registrations accepted, more attention can be given to each player. SC Azzurri aims to make sure that the coach per player ratio is at a level where each player can receive the attention they need. Unlike some other academy structures that might exist, the main purpose of this school is not to use branding and public figures to attract the most members possible with the hope or promise that one will make it to the big stage. Our purpose is to provide quality service to our members and work with each participant to make sure they improve. Although we do hope to develop high level athletes, we also see value in developing a player even if he/she might not end up playing at a high level in the future. We aim at giving our soccer players the necessary tools to succeed in the future; in both soccer and life. In terms of soccer, it would obviously make us very proud if one of our players ends up playing at a high level; And we do have the tools to help make that happen.
SC Azzurri will have qualified coaches running the sessions. Our players will be practicing some of the most basic but essential technical elements in soccer. Although the basic skills practiced at some of these younger age groups may not necessarily require highly qualified/certified coaches, SC Azzurri still chooses to have coaches with an accomplished soccer background to be part of the staff. In addition to qualified and certified coaches, we also aim at having current and former high level and professional players, scouts, coaches, and agents make appearances at some of the sessions. SC Azzurri has affiliated itself with high level and professional soccer agents, soccer scouts, and soccer coaches in order to give our players an opportunity to pursue soccer at the next level should they choose to do so, and should the opportunity arise. Before moving forward with this initiative, our director has ensured that he can count on the support of several contacts he has made over his years in the sport; both in Europe and in North America. For any questions feel free to contact us.