Mario D'Otolo
Director and Coach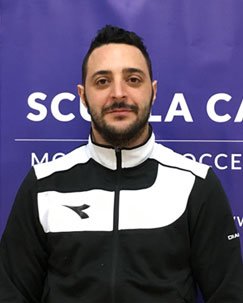 Mario grew up playing soccer in Quebec. He played at the AAA level throughout youth and senior with teams like NDG, Jean Talon Rosemont, and the Lac St Louis Lakers. During that time, he was part of his regional team that played at the Quebec games. He was also the all-time leading scorer for his high school and later played for Dawson College and Concordia University. He was also offered a scholarship to an American university but decided to stay in Quebec until he was offered a tryout to a fifth division team in Italy. He signed a semi-pro contract there, but a serious injury shortly thereafter forced him to come back to finish his studies at Concordia university. During that time, after participating in the pre-season camp with the Impact reserve team (Trois-Rivières), Mario decided that as he was getting older and still affected by lingering injuries, it would be more beneficial to finish school and enter the business world. He did so successfully, but he still wanted to be involved with soccer. He decided to pursue coaching and began helping as a volunteer as he commenced his coaching levels. He eventually obtained his DEP, and License B and coached youth and senior AAA teams in Quebec. Some accomplishments include leading teams to promotion and successful AAA seasons, as well as overachieving seasonal expectations. He also obtained his technical director's diploma and later became the Technical Director of Dollard Soccer. He has also worked for Lac St. Louis at their technical games and has built strong relationships across the province. Mario was always a student of the game and even worked part time for a soccer statistics and analysis website where he would watch more than twenty professional soccer games a week. Realizing soccer was his real passion, he then devoted more time to it. As Technical Director of Dollard Soccer Club, Mario helped increase the number of AAA teams from one to three in his first two years. He also coached their AAA teams and kept looking for ways to make the players and the club more successful. Mario's strength as a player was mainly his technical ability and he noticed the lack of base technique in the club and in the surrounding areas.  While in Italy, he saw young players playing in the streets and in soccer schools and remembered how their touch on the ball and base technique was above average from what he had seen in Canada. It was mainly achieved through repetition; touching the ball often and developing a relationship with the ball. There was a need for this extra training, so an idea was born. Mario decided to reach out to some of his former contacts in Europe and North America to inquire if they would be willing to collaborate should he open a soccer school in Montreal. The response was positive, and so SC Azzurri was born to hopefully give players a platform to develop and pursue their path in soccer.
National License in progress
Technical Director Diploma
 Provincial B License obtained
DEP Obtained
Coach/Coached AAA, Ligue de Soccer Elite du Quebec (youth and senior, male and female)
Played Semi Pro Soccer
Coaching and playing experience in Europe
Played AAA (Ligue de Soccer Elite du Quebec (youth and senior)
Played University Soccer (division 1)
Attended coaching sessions with SSC Napoli, Chelsea, and Montreal Impact.
David Desbarats
Coach and GK Coach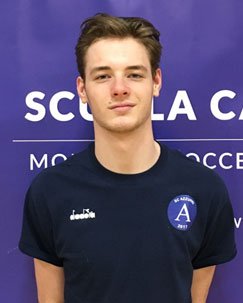 A local product of Dollard Soccer Club, David played his youth Soccer at Dollard. He also played for the U21 AAA team and was nominated for goalie of the year by the Quebec Soccer Federation. David has also gone on to play for Mont-Royal Outremont in the PLSQ (Quebec's semi professional Premier League) as well as for the Montreal Impact under 19 and reserve team. Despite his young age, David has shown an interest and passion for coaching.
Played for Montreal impact youth/reserve team.
Played AAA and semi pro Soccer
Nominated for GK of the year at the U21AAA level.
Strauss Mueller
Coach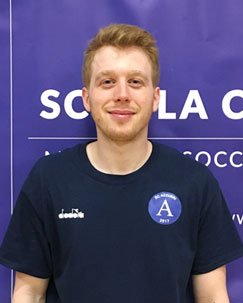 Strauss has grown up playing soccer in the West Island of Montreal. He played his youth soccer at the AAA level with the Lac St. Louis Lakers. He also played semi pro soccer with SC Lakeshore in the Premiere Ligue of Quebec. In his mid twenties, Strauss decided to focus on coaching and became involved with Dollard Soccer Club. He joined their technical staff and has worked with players of different ages.
Played semi pro-Soccer
Played AAA youth soccer.
Part of the technical staff at Dollard Soccer Club.